Cartoon cake, also known as comic cake, is one of the key trends in cake design. Sweet *n Fairy, an e-commerce site specialising in pastry items, talks about working with sugar paste and pastillage to make a success of your 2D cake.
What is a cartoon cake?
A cartoon cake is a decorated pastry that looks like something straight out of a cartoon. Its name reveals its originality. The stunning visual effect gives the impression of watching a cartoon or enjoying a 2D comic strip.
To get the optical effect of a two-dimensional cake, the trick is to mark the outlines of the different parts of your cake in black. To do this, simply place strips of sugar paste or black icing around the shapes of the cake. The result is a dynamic and original design that creates a pleasing optical illusion.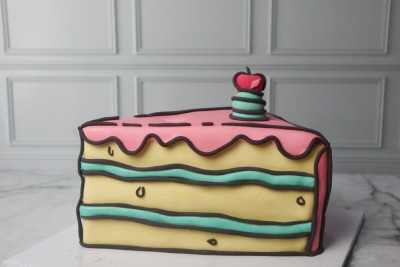 How do you make a cartoon cake?
No matter how it's made, a cartoon or comic cake will always surprise your guests. Needless to say, this decoration is a great idea for an original birthday cake. Here are a few tips on how to get the base right:
The cake base: Whatever the flavour, the base of your cake should be firm enough to give the best 2D effect. Your cake, 10 to 15 cm high, can then be divided into three parts to form a layer cake.
Covering the cake: You then need to cover your creation with jam, buttercream, Swiss meringue or ganache, and place the chosen sugar paste on your cake.
Tips for a stunning 2D birthday cake
When marking the details with the sugar paste or icing, make sure you leave no outline out. To draw the black lines on the edges of the cake, proceed as if you were drawing freehand with a pencil.
You can also shape shapes, motifs and figures in edible modelling clay. To do this, flatten some sugar paste on a flat surface (such as a work surface or non-stick board). Then use a template (cut from card or thick paper) to simplify the cutting, which you can do with a cookie cutter or the tip of a knife.
Coat each element separately with fine black pudding, which can easily be made with a decorating gun. Then glue the different pieces to your cake using water. You can also apply the black sugar paste or icing once all your decorative elements have been attached to the cake.
Materials needed to make and decorate your cake
Cutting, sculpting, smoothing, rubbing and modelling are all easier with the right utensils and pastry-making equipment. So make sure you have everything you need, including a rolling pin, a smooth-bladed knife, an extruder, a fine brush with water (or food glue), a straightener, a cookie cutter, pastry cases and bags, etc. Your pastry-making will be so much easier!
Want to make a 2D cake for an event?
Sweet *n Fairy, an online shop specialising in cake-making equipment, will be happy to help you choose the best utensils and ingredients for decorating your cartoon cake. For more information, contact us by phone or via the online form.