The Fraisier is a classic French pastry, appreciated for its freshness and delicacy. It is generally made up of several elements:
Biscuit : The biscuit used in a fraisier is often a light, fluffy sponge cake, sometimes flavoured with lemon or vanilla zest. It serves as the base for the strawberry cake and adds an airy texture.
Crème pâtissière: Crème pâtissière is a thick, creamy custard made from milk, egg yolks, sugar and flour or cornflour. It is flavoured with vanilla and is used to garnish strawberries, adding a creamy sweetness.
Ganache montée: Ganache montée is a preparation made from chocolate and liquid cream, whipped to a light and fluffy consistency. In the case of strawberries, the ganache is often flavoured with vanilla to complement the flavours of the pastry cream.
Strawberry compote: Strawberry compote is a preparation made from fresh strawberries, cooked with sugar to obtain a slightly thick texture and intense flavour. It is used to add a fruity, tangy note to strawberry dishes.
Strawberry syrup: Strawberry syrup is a sweet liquid made by cooking strawberries with sugar and water. It is used to soak the biscuit, adding flavour and moisture to the whole dessert.
Once all these elements have been prepared, the Fraisier is assembled by alternating layers of biscuit, custard, strawberry compote and ganache. It is usually garnished with fresh strawberries and decorated according to the pastry chef's taste.
The Fraisier is a popular spring and summer dessert, thanks in part to the perfect combination of textures and flavours it offers. It is often presented in the form of a round cake, with sides garnished with halved strawberries and an elegant finish.
But today we're presenting a square version of the Fraisier, inspired by the recipe on chovdelices' Instagram page.
Ingredients for 1 Fraisier serving 8
For the lemon biscuit
40g butter
2 eggs
130g sugar
Zest of an organic lemon
80g single cream
120g flour
2g baking powder
For the vanilla ganache
120g cream 35% fat
2g gelatine (i.e. 1 sheet of gelatine)
7g glucose
7g invert syrup
1 vanilla pod
75 g white chocolate
250 g cream 35% fat
For the strawberry compote
250 g strawberry purée
50 g fresh strawberries
60 g sugar
5 g pectin NH
For the pastry cream
650g whole milk
150g sugar
4 egg yolks
2 eggs
1 vanilla pod
70g creaming powder (which you can replace with 35g cornflour and 35g flour)
100g butter
2g gelatine (i.e. 1 sheet of gelatine)
Strawberry soaking syrup
60g strawberry compote
40g water
50g sugar
Zest of one untreated lemon
To decorate the tart
Fresh strawberries
Golden leaves
Specific equipment for the recipe
1 food processor
1 zester grater
1 mixer
1 Saint Honoré Tip
Pastry bags
1 square dessert ring
1 rubber spatula
1 sponge cake mat
Rhodoïd
The steps
Start the day before by preparing your crème pâtissière (D-1)
Heat the milk in a saucepan with the vanilla pod, split and scraped out.
In a bowl, whisk the egg yolks and eggs with the sugar until creamy. Add the cream powder and mix well.
Pour the hot milk gradually over the mixture while stirring.
Return the mixture to the saucepan and cook over a low heat, stirring constantly until thickened.
Remove from the heat and add the gelatine (previously hydrated) and butter. Pour the crème pâtissière into a bowl, place cling film directly over the surface to prevent a skin forming, then leave to cool. Leave to set in the fridge for at least 8 hours.
Then the ganache (D-1)
In a saucepan, heat the cream with the split and scraped vanilla pod, invert sugar, glucose and gelatine (previously hydrated).
When the mixture is hot (it must not boil) pour it all over the white chocolate.
Then add the rest of the cream and mix with your hand blender.
Pour into a dish, film on contact and leave to stand overnight.
In the morning 
Make your biscuit
Start by melting your butter and reserving it.
Mix the eggs, sugar and zest together (5 minutes in a food processor with a whisk attachment).
Then add the cream, flour and baking powder and mix with a rubber spatula.
Pour in your butter and mix
Pour the mixture onto the greased sponge cake tin. This recipe won't cover the whole mat, which is normal, so don't worry.
Bake for 15 minutes in an oven preheated to 170°C.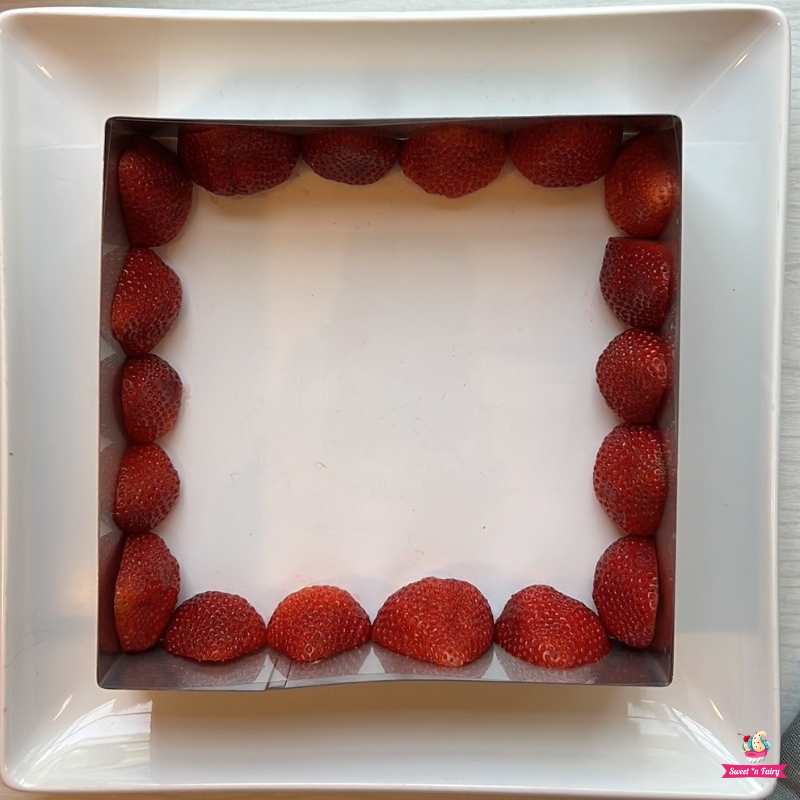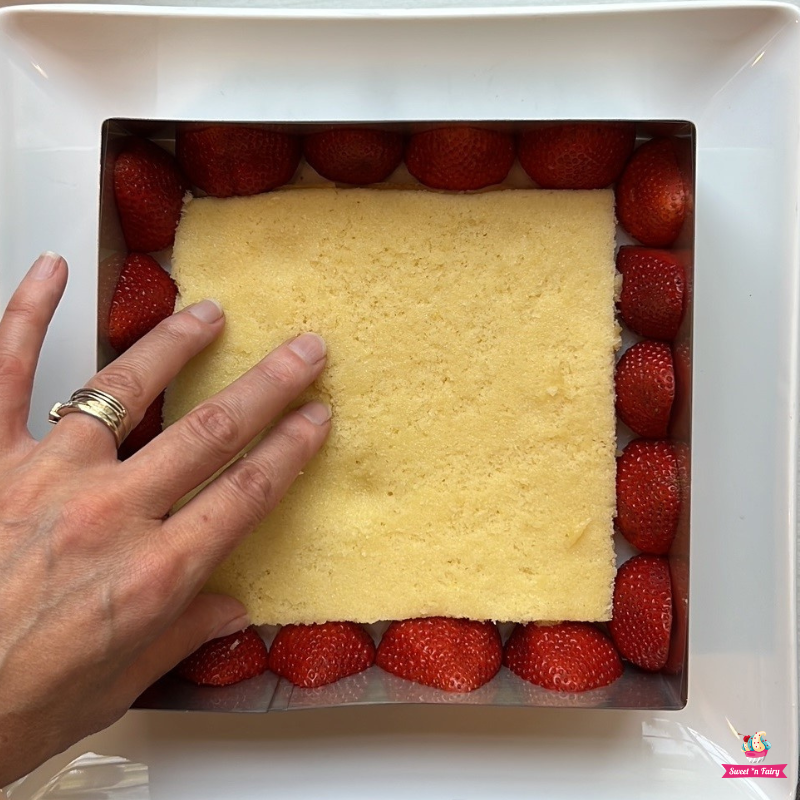 Then prepare your strawberry compote
Heat the strawberry purée and strawberries in a saucepan.
Mix the pectin and sugar together, pour into the saucepan and stir.
At the first plop of the mixture starting to boil, stir without stopping, count 30 seconds and remove from the heat.
Blend the mixture with your hand blender and leave to cool.
Then your syrup
Take 60g of your compote and heat it in a saucepan with the water and sugar until it boils and thickens into a syrup.
Remove from the heat and leave to cool.
And to finish
Soften your crème pâtissière with a whisk, adding 80g of ganache to make it even lighter.
Whip up the rest of your ganache like whipped cream when you have put the strawberries in the fridge to set (see below).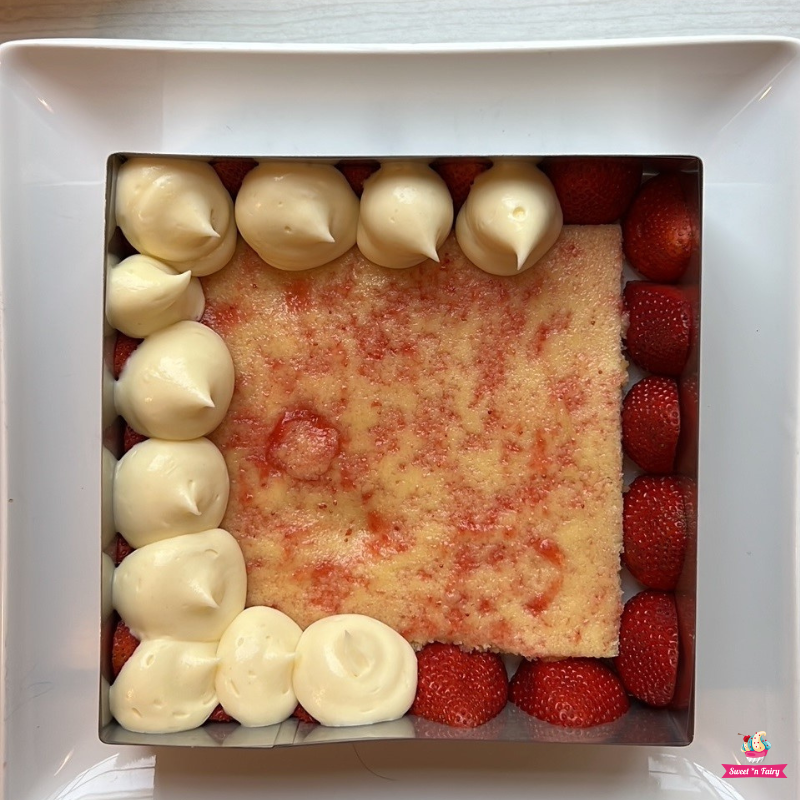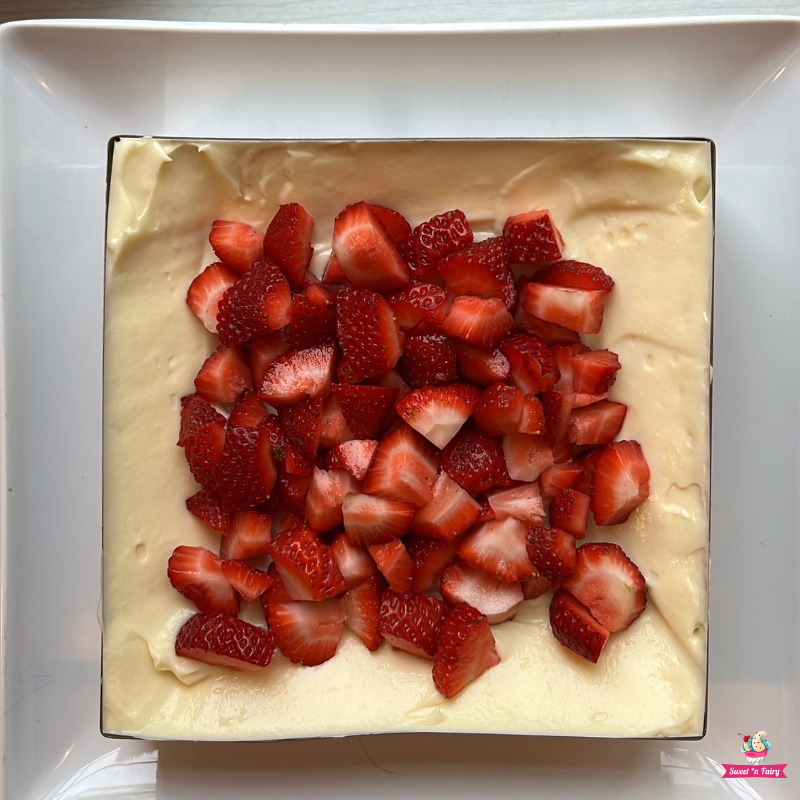 Assembling the tart
Start by washing, hulling and halving your strawberries. Try to have them all the same height, it's prettier.
Using the dessert frame, cut the lemon biscuit into a +/- 18 cm square.
Take the frame, place it on your stand and place your rhodoid against the sides before placing the strawberries.
Place your biscuit in the centre and brush it with syrup.
Using a piping bag and a small angled spatula, pipe some custard between the strawberries and a little on top of the biscuit.
Place some fresh strawberries mixed with the compote in the centre
Cover with pastry cream, smooth with an angled spatula and leave to set in the fridge for 2 hours.
Now it's time to pipe your ganache into a piping bag fitted with a Saint Honoré tip and draw pretty lines on the top of your strawberry cake.
Finish by decorating with mint leaves, lemon zest, strawberry compote or gold leaf .... In short, let your imagination run wild and bon ap!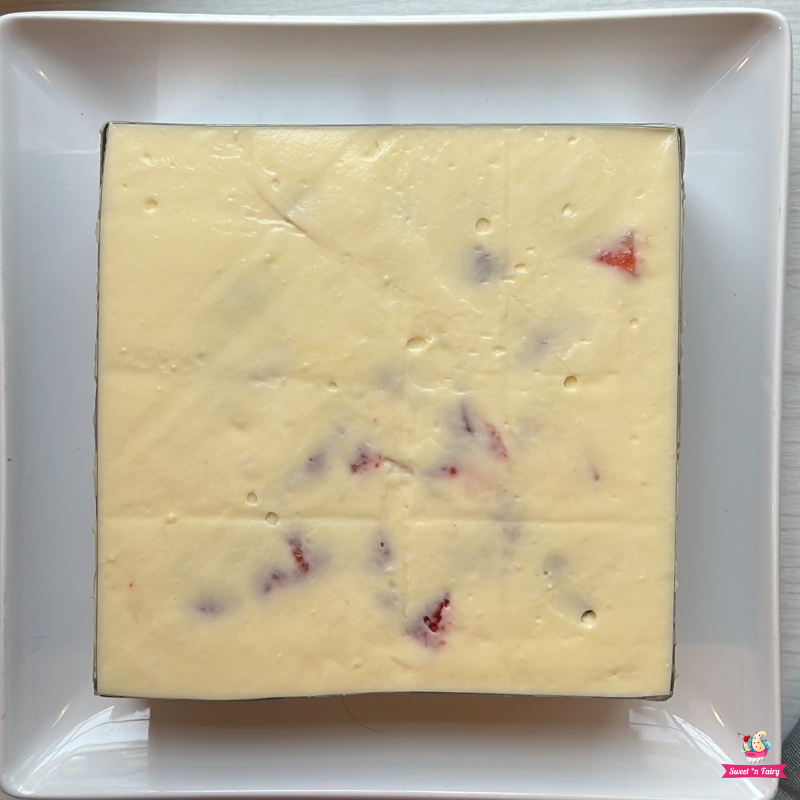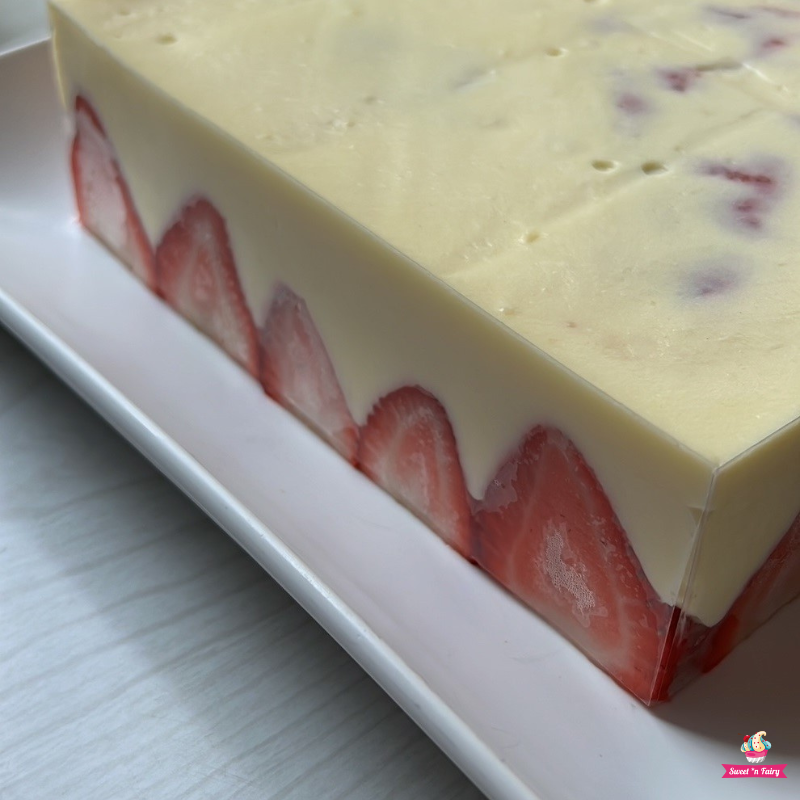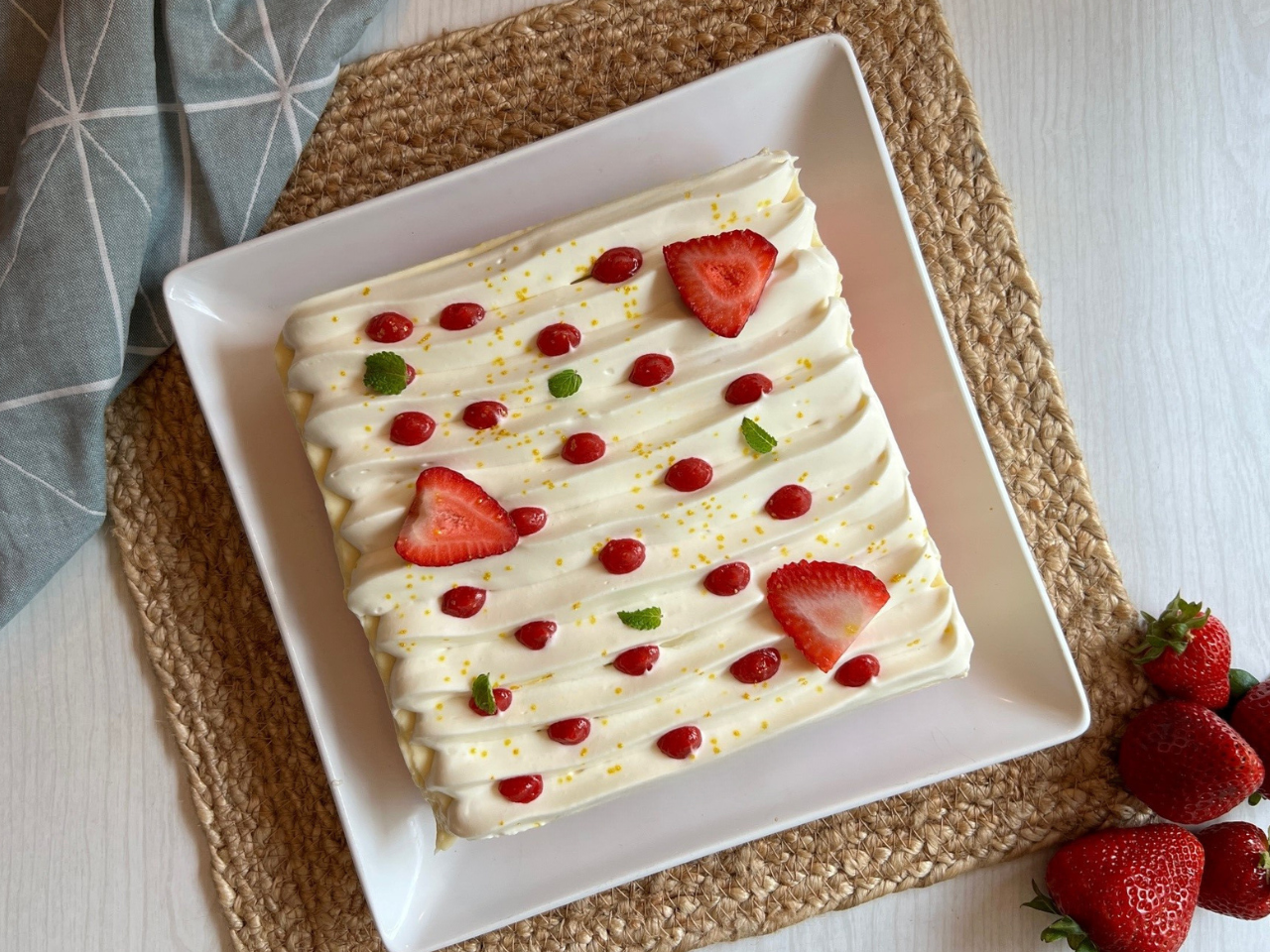 Remarks
You can make all the preparations the day before and assemble the strawberries the same day.
Do you have any questions about the recipe ?
You can contact us by phone or via our online form. We are happy to answer all messages and questions and complete our recipe.
Follow us on social networks to discover many other original and delicious pastry recipes, perfect for any occasion.